FREE Copa Airlines pilot interview information and gouge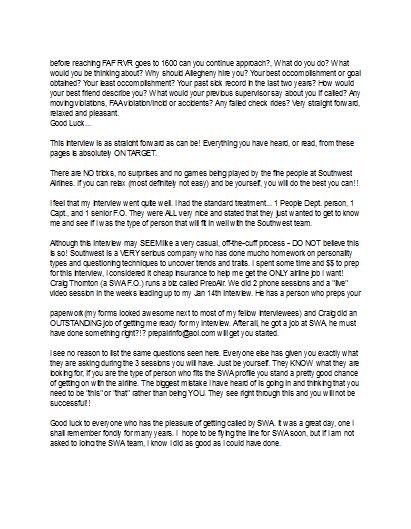 Two day First Officer interview



Arrival: The driver was holding a sign that said Copa Airlnes and standing next to the women's restroom. Otherwise, use the payphone outside to call the driver with a US quarter.



Day 1: Expect this to be a 12 hour day regardless of schedule.


Blood & urine test


Polygraph - Do you smuggle drugs? ect...


Simulator: King Air 200 FTD is very pitch sensitive. My best advice is to hold a pitch for altitude, airspeed or vertical speed. If you try to use the VSI, you'll never get a handle on it and it will swing up and down. I believe they were mainly concerned about your situational awareness and procedures/CRM. We took off from Guatemala City's runway 01 on the Palen departure/LAGOX transition. Was given holding instructions at LAGOX (be sure to verify if it... Continue Reading this Interview Experience