FREE GoJet Airlines pilot interview information and gouge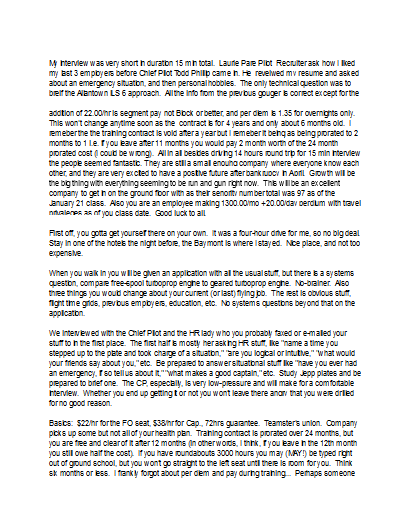 The interview was the most pleasant interview I have ever had. Met with the interviewer (active GoJet Captain) at a Marriott near my house. He was there for a career fair and stayed for my interview so I didn't have to fly up to St Louis. Interview was very similar to the others on this website and the study questions were all you really need to prepare with. A couple of notes to mention 1. GoJet uses Lido charts instead of Jeppesson or FAA charts. We used the Lido chart for the technical... Continue Reading this Interview Experience
Feedback from: Warren C

(Hired at GoJet Airlines)

Aviation Interviews was very helpful in preparing me for the job interview. I knew what areas to focus on and what kind of questions to expect. I highly recommend getting access t least a few weeks before your interview so you will have some time to prepare. It is an excellent resource.