FREE Scenic Airlines pilot interview information and gouge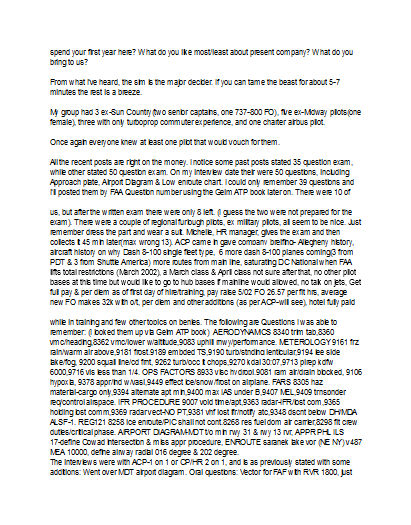 Well, I believe this will be the first gouge since 2008. My experience was not a lot different from what has previously been reported. One thing I did notice is that they seem to have discontinued the ATP written questions. There was no written test during my interview. I would also like to highly recommend prep work.
I arrived in the morning and met up with Ron who is the director of training, and Sarah from HR. One other applicant was there and the first 15-20 mins was just info about the airline. Pay for the Twin Otter FO is $12/hour, and pay for the C207 captain is $13/hour. ?That is duty time, not flight time, and there is a 6.4 hour a day guarantee.
The interview portion was fairly simple. HR questions included what do you do if you suspect the captain has been drinking (they will keep trying to get you to say you would give him the benefit of the doubt and go fly, don't fall for it). What do you do if you... Continue Reading this Interview Experience