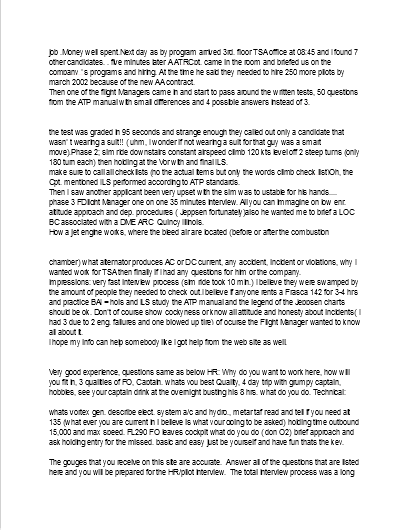 Read Page 1 ... CRM. There were slightly different variations of the test, so if you plan to try that make sure you're careful. I was second to last to be brought into the HR and approach plate in-person section, and it was a lot shorter than I expected. Perhaps that was because it had already been a long day for the interviewers. HR questions were very standard. HR representative then left and I was with a base chief pilot who showed me an approach plate (KHLN ILS Z 27), and a sheet about the aircraft (cruise altitude, speed, etc), and a METAR/TAF for the arrival. He explained there would be no tricks and then left the room for about three minutes to let me prepare. When he returned I was very surprised I was not asked to actually brief the approach, he simply asked me basic questions about how I would transition from cruise onto the approach. How far out would you descend? Use the rule of 3 and then the given groundspeed. He likes if you can avoid using a calculator, and it's pretty simple math so you should be able to do that. How would you... Continue Reading this Interview Experience
Jordan J

(Hired at Horizon Air)

Great stuff, keep up the great work.

Gregory E

(Hired at Horizon Air)

The study questions were the best. They really helped me direct my studies.