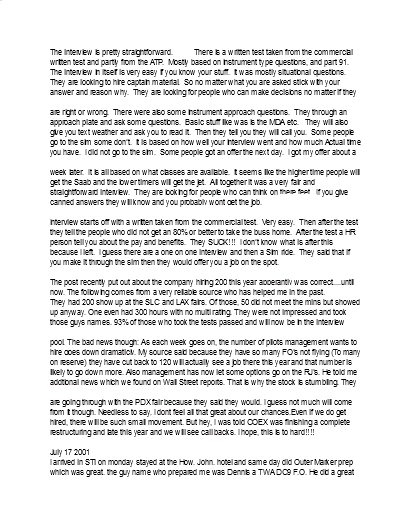 This was specifically for JSX. Other gouges were pretty spot on. They provided a hotel room, offered transportation but wasn't needed in my case. There were 5 interviewees including myself, started with a presentation and overview of the company, benefits, compensation, upgrade times, etc. Next was the technical interview, paired with another applicant to go over a taxi, SID, STAR, and approach for KSNA to KMMH using Jepp plates. I have no experience outside of studying... Continue Reading this Interview Experience
Lloyd T

(Hired at JSX)

The information shared on aviation interviews.com was an exact description of the interview day and questions asked.

May 17, 2023

Caesar M

(Hired at JSX)

Awesome prep for my interview. All possible questions are listed here. Highly recommended to be used by anyone prepping for upcoming interview. Thanks a lot.