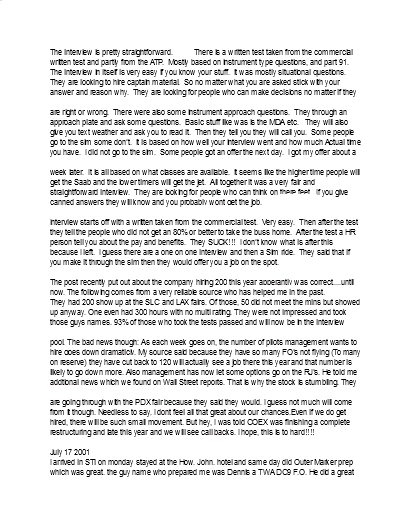 Read Page 1 ... for Jepp and jet procedures, so a lot of questions were directed towards my more experienced partner, but participation was well distributed and it wasn't particularly difficult. Next was going over my resume and experience with the chief pilot, but most of that part was him answering my questions, very upfront and honest about what to expect. Last was basic required questions (can you work outside, can you lift or push 75 pounds, can you pass a drug test etc) and a few... Continue Reading this Interview Experience
Lloyd T

(Hired at JSX)

The information shared on aviation interviews.com was an exact description of the interview day and questions asked.

May 17, 2023

Caesar M

(Hired at JSX)

Awesome prep for my interview. All possible questions are listed here. Highly recommended to be used by anyone prepping for upcoming interview. Thanks a lot.