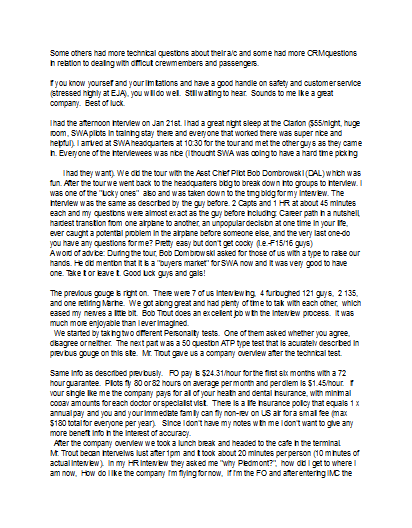 Interview started promptly at 08:00 as I was met at the front desk and taken into an office area where I handed over my logbooks and identification, licenses, medical, etc., After about a seven minute wait they led me to meeting room with two other people present. They were the chief pilot and two experienced HR specialists. After exchanging names the process began with tell me about your flying career and how it matches up to your resume. That was an opportunity to explain a summary of each former pilot position held and the positive experiences I gained from each. This took about twelve to fifteen minutes after which the three professionals took turns asking... Continue Reading this Interview Experience
Jason F

(Hired at ABX Air)

Service was right on

Chase L

(Hired at ABX Air)

This proved to be an invaluable service! Would not have been able to do as well as I did on the interview without it.