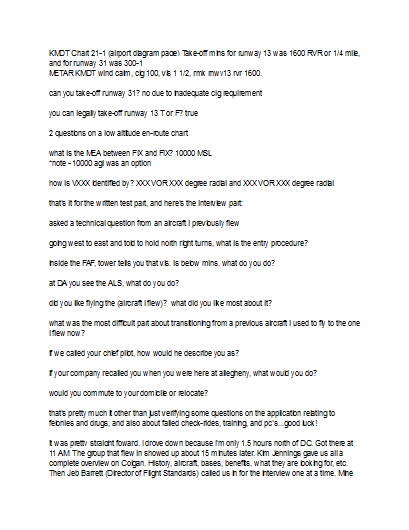 Read Page 1 ... me questions about different experiences, gaps in employment, difficulties with former crew members and two or three, "Tell me about a time questions". Such as difficult Captains, emergency situations, or when I'd had a problem with company policy, or standard operating procedures. (view the study guide of this website). The face to face panel lasted about forty minutes or less and then I was invited to wait in a break room while they discussed their notes and observations. Some seven or so minutes later the chief pilot asked me if I'd care to go through their sim check. I replied in the affirmative and he escorted me downstairs to one of the... Continue Reading this Interview Experience
Jason F

(Hired at ABX Air)

Service was right on

Chase L

(Hired at ABX Air)

This proved to be an invaluable service! Would not have been able to do as well as I did on the interview without it.