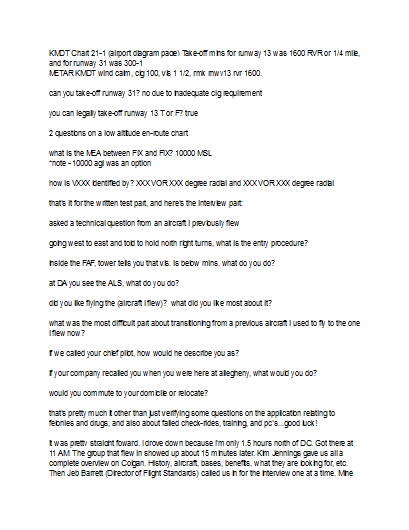 I sent my app to the email address listed on the website along with a cover letter. Approximately 2 weeks after that I received an email stating I was selected for an interview for the Part 121 Caravan Captain position. I called Empire and talked to the head of HR. She was very nice and set me up for an interview time. We talked about the company and why I would like to be part of a small company such as Empire. She asked some non-detailed questions about flying and my experience. She also asked what I thought my biggest weakness would be reported as from crews I have flown with in the military. The rest of the... Continue Reading this Interview Experience
Justin R

(Hired at Empire Airlines)

Direct communication with people who interviewed.

Mar 08, 2023

Souhaiel H

(Hired at Empire Airlines)

It was extremely helpful to not only get a very accurate list of the type of questions being asked in the interviews, but also to gauge how each applicant's experience went. It helps to know what to expect before walking into the interview. And it sure is important to pay it forward and share one's experience.