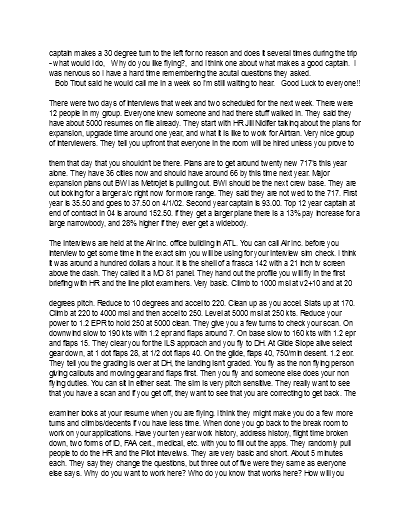 Read Page 1 ... questions were simply personality and HR questions. Very friendly and very well done. I was scheduled 3 days later for an interview with the chief pilot. We talked for about an hour. He did not ask any specific flying related questions, but instead asked about my thoughts of flying for Empire. He then explained in better detail what the schedule would look like and what would be expected of me. He told me I would receive a call after he finalized the decision with HR. I called HR the next day to clarify a few discrepancies between the email, HR's response, and the chief pilot's response to scheduling, vacation... Continue Reading this Interview Experience
Justin R

(Hired at Empire Airlines)

Direct communication with people who interviewed.

Mar 08, 2023

Souhaiel H

(Hired at Empire Airlines)

It was extremely helpful to not only get a very accurate list of the type of questions being asked in the interviews, but also to gauge how each applicant's experience went. It helps to know what to expect before walking into the interview. And it sure is important to pay it forward and share one's experience.