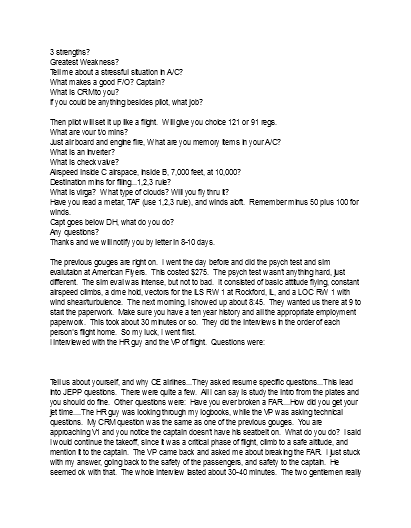 The interview process was like what everyone has said in previous write ups. Everyone there was very friendly and were rooting for you to succeed. The first day involved drug testing, cog, psych and job knowledge tests. I felt that the first two tests weren't too bad but the job knowledge test was a beast. Everyone walked out feeling as though they had failed. I did a lot of study preparing for the test and I felt as though most of what I studied wasn't on the test. However, apparently I prepped well enough as I got invited back for day two of the interview. I was in the morning go and... Continue Reading this Interview Experience
David G

(Hired at Federal Express)

It gives you access to different airlines trip reports that lets you compare questions that may be asked by different airlines during the interview.

Constance A

(Hired at Federal Express)

Fantastic! Very valuable in preparing!