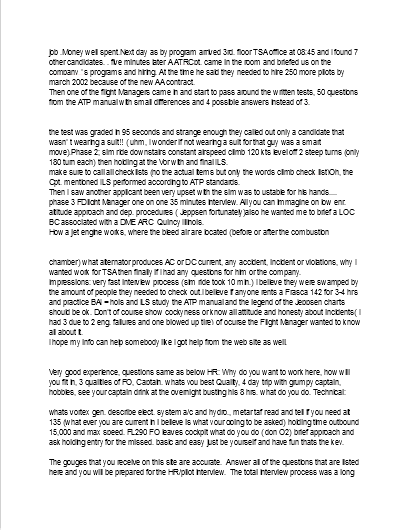 Read Page 1 ... representative of the PS brand with extensive knowledge of customer service. After the HR interview we had a facility tour and HR presentation. The presentation just outlines the duties, what PS is all about, scheduling, benefit overview, pay scale, etc. This is where you'll be able to ask more in depth questions about the entire operation at PS. The HR women are extremely nice. At the end of the day I had my sim eval. (view the Sim/Scenario section of this website). After all that we stopped the sim and i got a ride back to the main facility from the two guys that gave me my sim eval. We talked it up for a bit. I was still beating myself up over my sim eval mistake but they said not to worry about... Continue Reading this Interview Experience
Arthur R

(Hired at PlaneSense)

Great

Sep 13, 2023

Ryan K

(Hired at PlaneSense)

Very helpful and I passed my interview!