FREE Southwest Airlines pilot interview information and gouge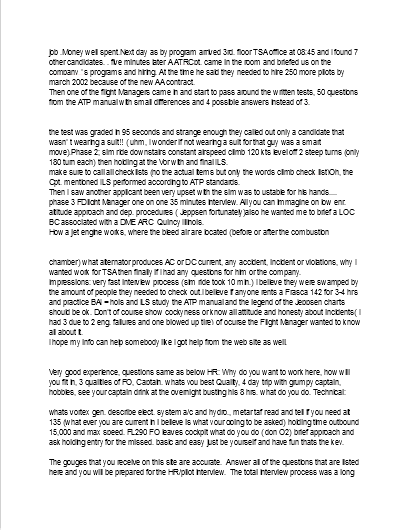 Shuttle from hotel to SWA headquarters. First step is turning in your log books and the paper work SWA emails you when accepted for an interview. SWA has a specific order they would like the paper work in! "Stack one, stack two" is how SWA refers to the paperwork, please be detailed oriented. This time is also when you will be fingerprinted digitally, takes no time at all. During this process you'll be in the room with the candidates, just remember that the interview begins from the time you leave the hotel to the time you walk out of the building, always be courteous and social! They love seeing how you and the other candidates interact. Next your group will be greeted by someone from the interview team and will walk over to an adjacent building for the interview. You and your group will be seated in a room where you'll be called individually to begin one of three portions of the interview. These three portions are (this is the order I got, keep in mind you can get any order!) Logbook audit, HR, LOI (Line Oriented Interview) Logbook Audit: Straight forward, they will have... Continue Reading this Interview Experience
Feedback from: James F

(Hired at Southwest Airlines)

I was able to prepare for my interview on my own as opposed to hiring an interview prep company. The interview summary allows for a no surprise interview experience. You know exactly how the process is going to play out. I used this site exclusively for two legacy interviews, both of which I received job offers. Thank you for the platform!