Donate to the scholarship fund by clicking this button:
9 Scholarships were awarded totaling $16,000! The endowment fund is now worth $120,000 and will continue to give away scholarships year after year.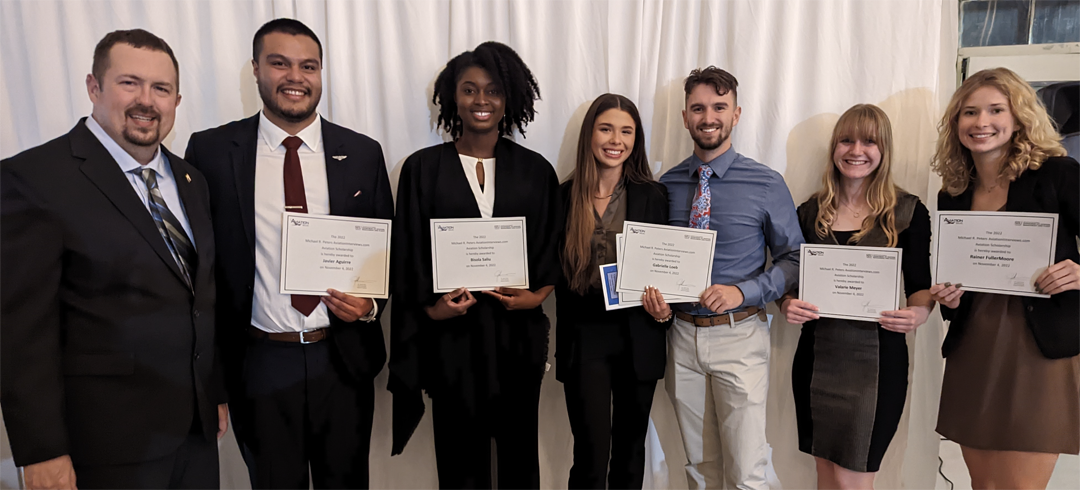 (L-R) Mike, Javier Aguirre, Bisola Saliu, Gabrielle Loeb, William Brecht Allen, Valarie Meyer, Rainer FullerMoore
Gabrielle Loeb received a $4,000 scholarship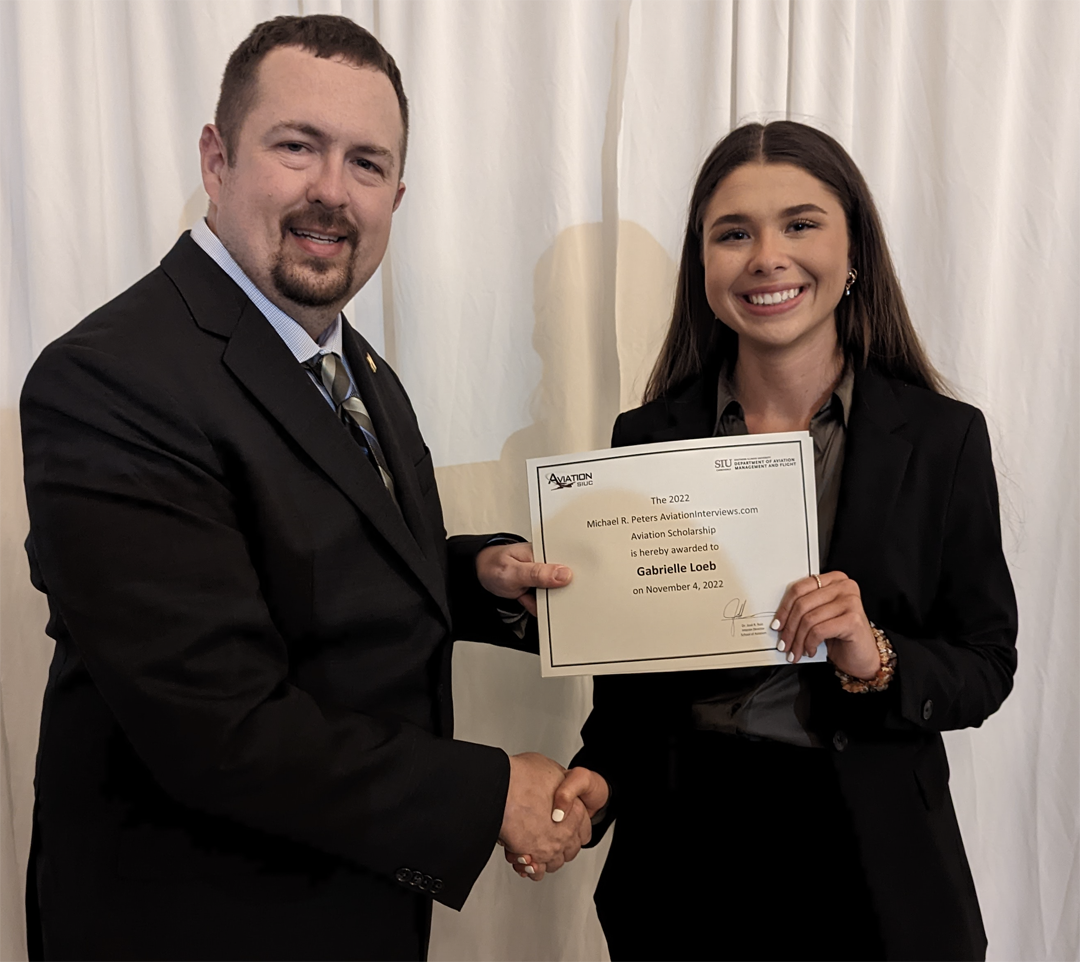 (From Gabrielle Loeb):
I am incredibly honored to have received the AviationInterviews.com Aviation Scholarship. I truly did not know what I was going to do to pay off my flight fees on a limited timeline with my graduation approaching in just a month. This was giving me a lot of stress and taking away my focus from school. Earning this scholarship has given me even more motivation to complete my goals and redirect my focus. I have extreme gratitude accepting this scholarship and have the utmost respect for the donors.
Valarie Meyer received a $3,000 scholarship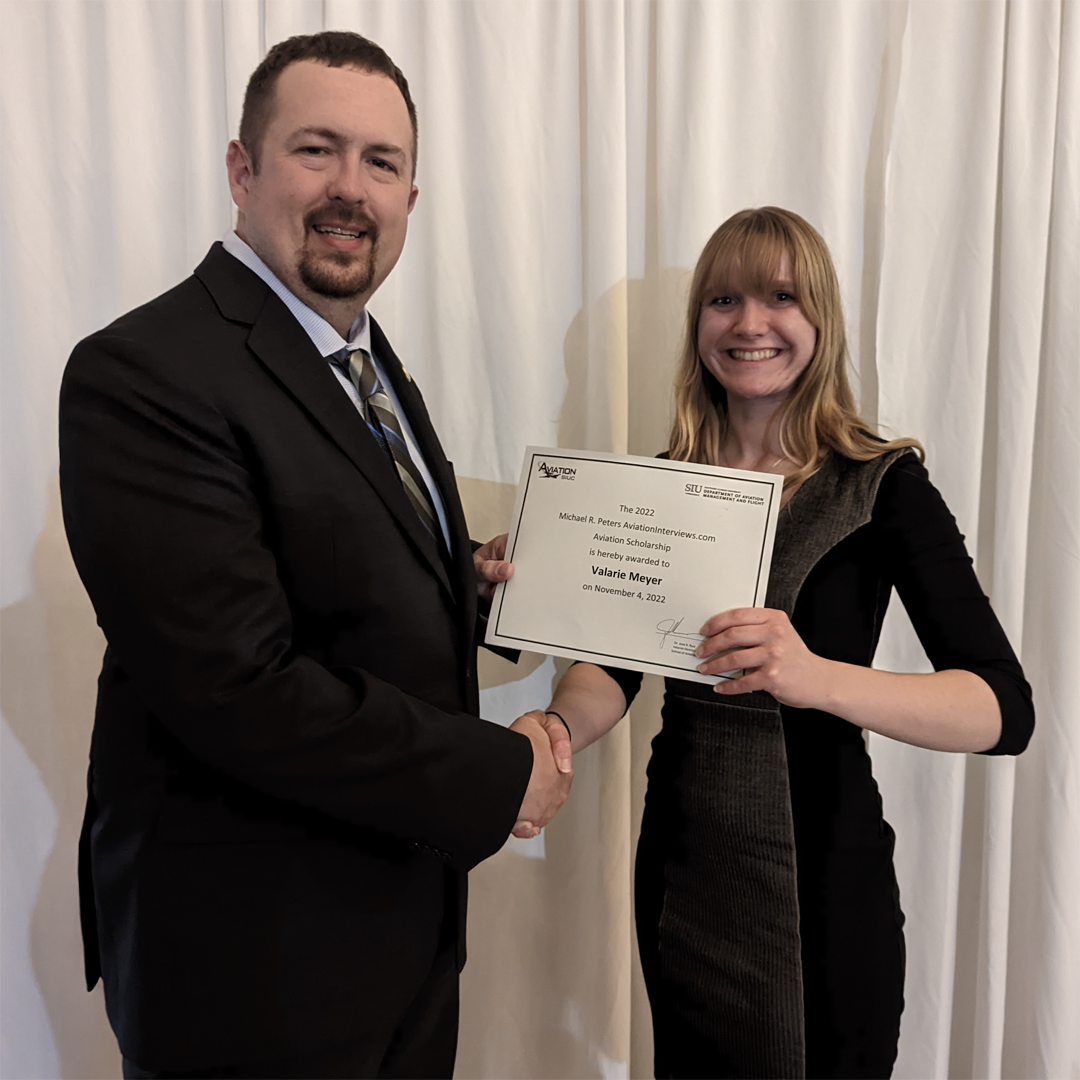 (Email from Valarie Meyer):
Thank you so much for awarding me an Aviation Interviews Scholarship this year! Your giving philosophy is seen throughout our entire program, and I cannot wait to further your mission to pay it forward. My mentor, Emily B., received this same scholarship three years ago. Her mentorship is why I chose Southern Illinois University. Without the legacy of this scholarship, I would not be pursuing aviation at this university!

The support of your generous organization has allowed me to fund my final flight course for my multi-engine rating. I am currently finishing up my Commercial Pilot Certificate, and I look forward to learning even more. I greatly appreciate your support of me and the next generation of aviation. As I stride towards my goals of becoming a CFI and professional pilot, I aim to help other students just as you have helped me.

I sincerely thank you for your dedication to aviation education and for allowing my career to take off!

Very Appreciatively,

Valarie Meyer
Bisola Saliu received a $3,000 scholarship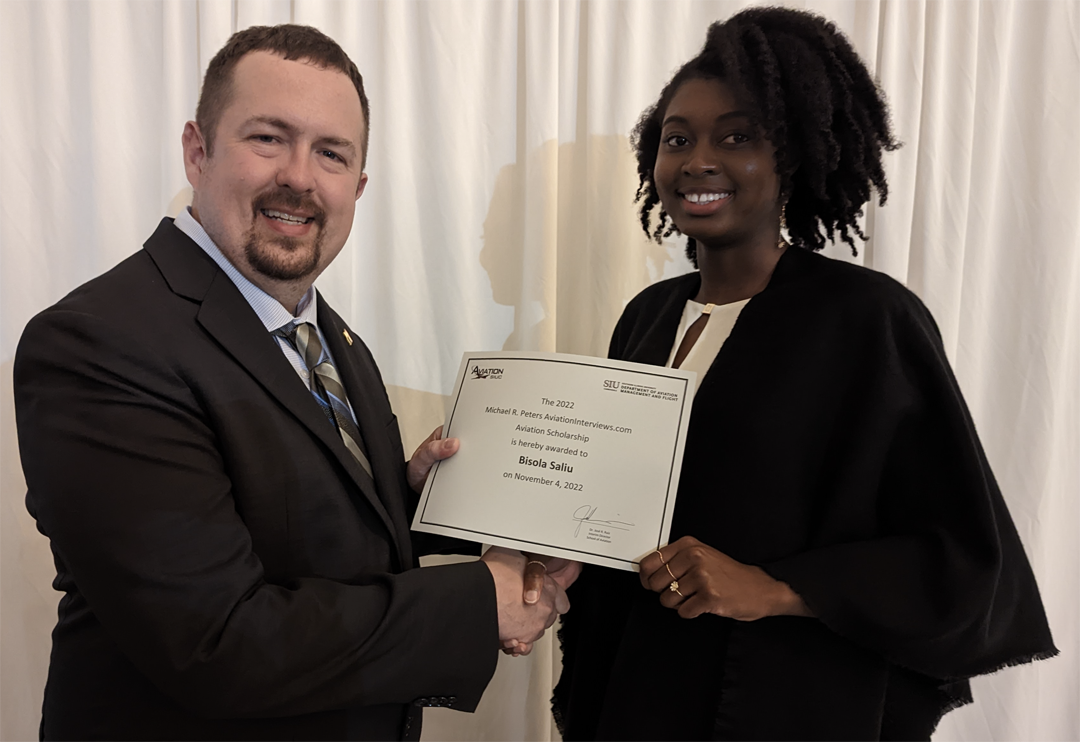 (Email from Bisola Saliu):
I am deeply honored to be selected as one of the recipients of the 2022 AviationInterviews.com scholarship. Your generosity will allow me to continue my flight training without the financial burden it brings. Thank you for paying it forward and helping the other recipients and I achieve our dreams. I hope to embody the life of paying it forward to others who come after me, just as you all have been instrumental in my aviation journey.

Thank you all so much.

Sincerely,

Bisola Saliu.
Javier Aguirre received a $2,000 scholarship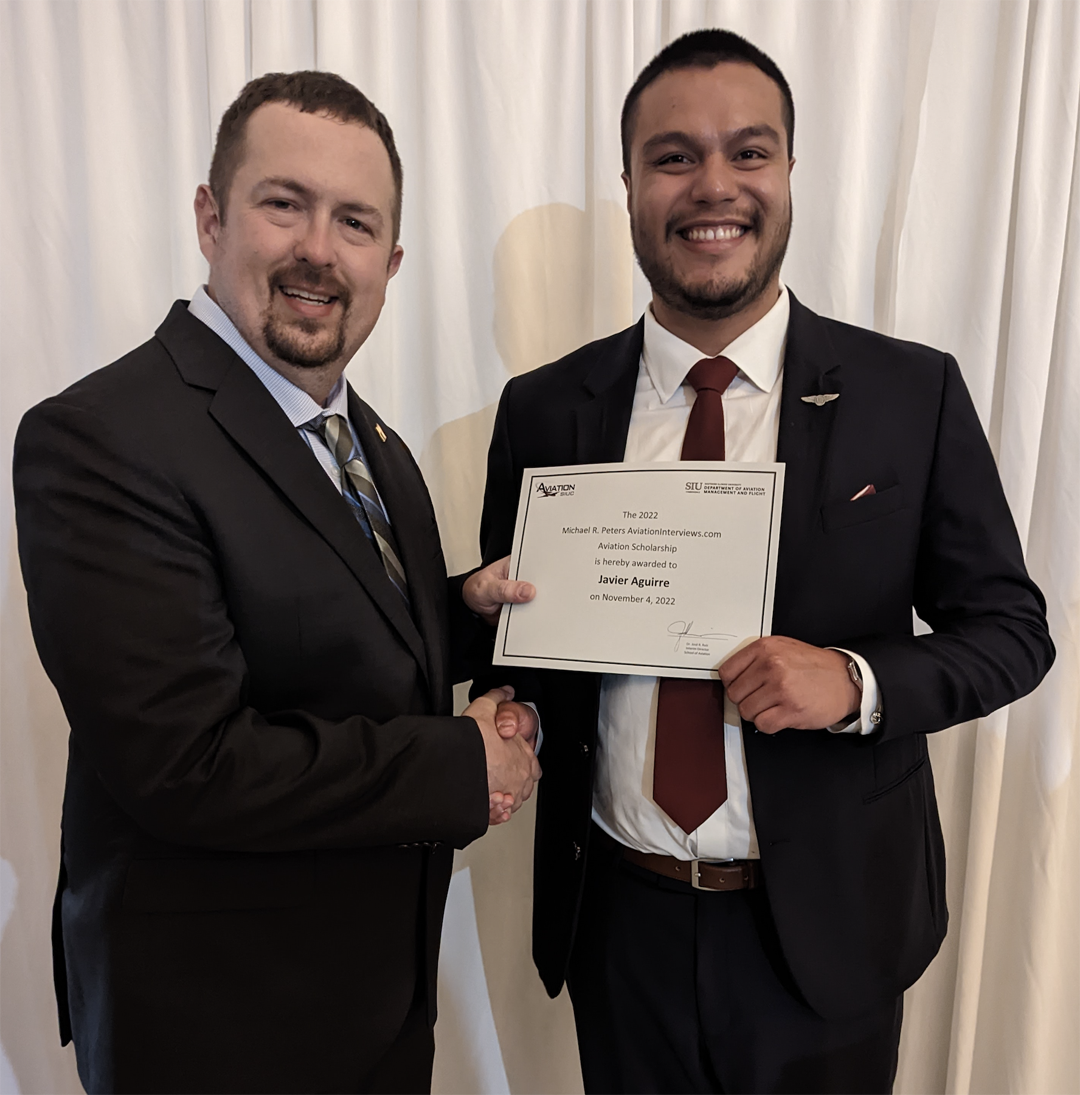 (Email from Javier Aguirre):
Dear Mike and everyone at Aviationinterviews.com,

I would like to say thank you so much for this opportunity to be a recipient of the 2022 Aviationinterviews.com Scholarship. I am at a loss for words and am more than honored to be awarded this award. I also want to thank you for the time and dedication you have put to pay it forward to us the students at SIUC, and in the near future, I see myself doing the same thing, paying it forward to someone else. Thank you again for taking the time out of your busy day to meet and get to know me and the other students. I look forward to sharing my advancement in my career with you. I cannot say thank you enough for the contribution that you have made to me and the rest of the students.

Mike once again, thank you, you are allowing me to reach my dreams that I once thought were not possible

Sincerely,

Javier Aguirre Jr
William Brecht Allen received a $2,000 scholarship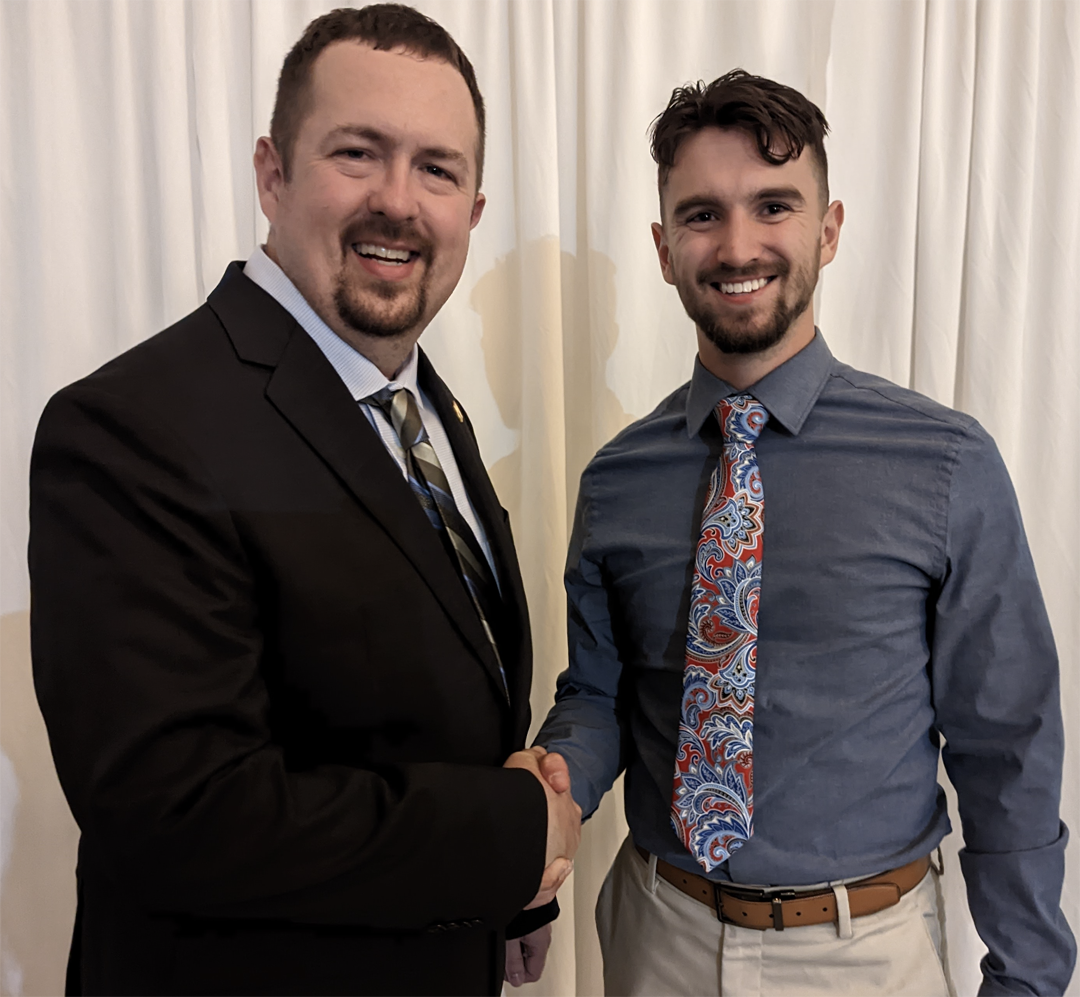 (Email from William Brecht Allen):
Mike & the Aviationinterviews.com Team,

Thank you so much for supporting me the last two years. I cannot describe how exciting it is to be a recipient of this scholarship again. Thank you for believing in me and supporting me as well as SIU Aviation as a whole. When I begin instructing I will pay it forward and do my best to help others. Because of your support I am finishing my flight training with fewer loans and less financial pressure. Thank you to the entire aviationinterviews team that help so many aviation professionals to achieve their personal aspirations. People like yourself make the aviation community a special tight knit group.

Again thank you so much for your support,

William Brecht Allen
Rainer FullerMoore received a $1,000 scholarship
(Email from Rainer FullerMoore):
Mike and the AviationInterviews.com members,

I would like to thank Mike, his family, and the members of Aviationinterviews.com for their generosity and continued support to everyone in the aviation community. I admire you and your family's devotion to 'paying it forward' as your positive impacts will affect future generations. For myself, this scholarship has relieved the financial burden of getting my certified flight instructors' certificate and I could not be more thankful. I look forward to putting this money towards my CFI training and paying it forward to student pilots in the future. Once again, thank you for this scholarship and commitment to aviation professionals-- it has not gone unnoticed.

Sincerely,

Rainer FullerMoore
Amelia Anderson received a $1,000 scholarship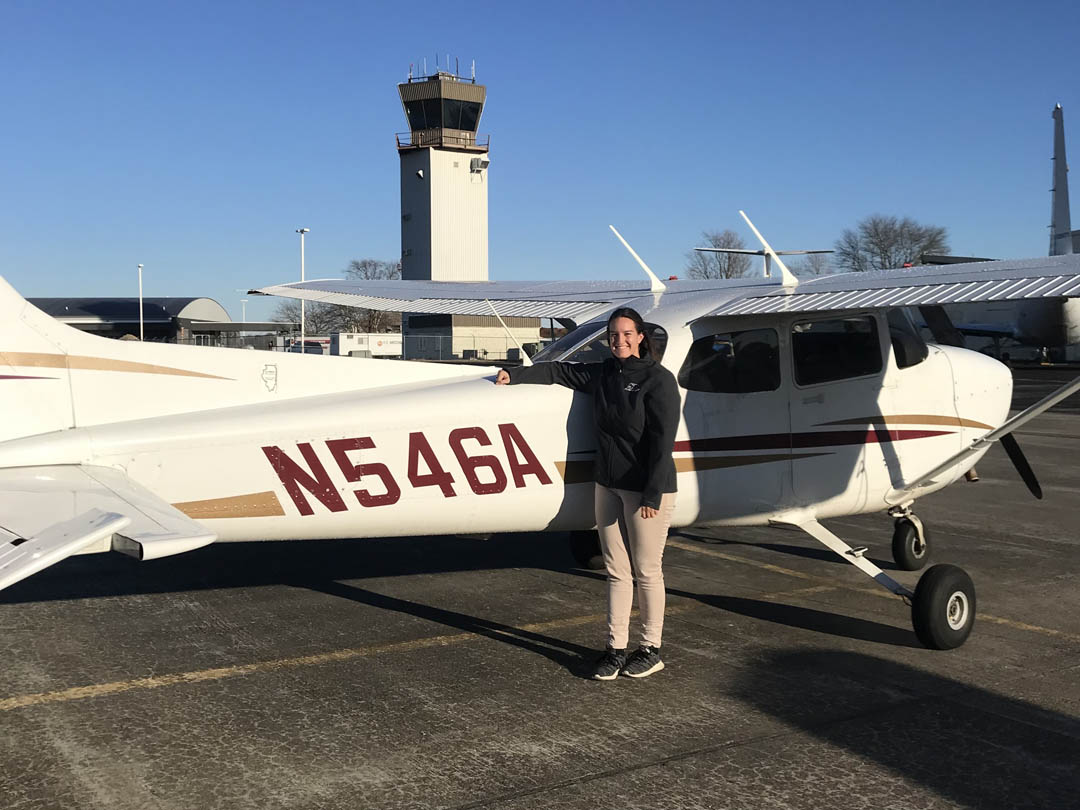 (Email from Amelia Anderson):
Dear Mike and members of AviationInterviews.com,

I am extremely grateful and honored to be selected as a recipient of the AviationInterviews.com Scholarship and would like to thank you for your generosity. Because of your commitment to pay it forward I will be going into my last semester at SIU with much less financial stress. Your donations have supported so many students, allowing us to continually pursue our dreams in aviation.

Once again, thank you for providing this opportunity and for all you've given back to the aviation community.

Sincerely,

Amelia Anderson