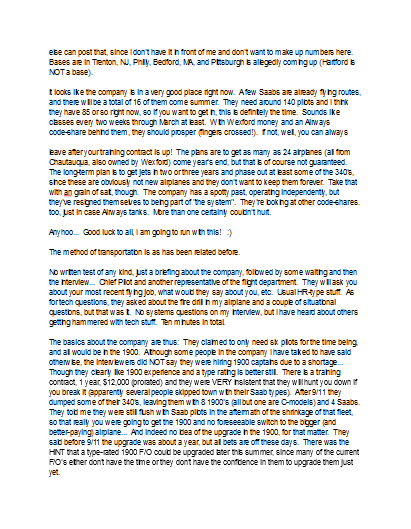 Read Page 1 ... was in the Tempo line. I was then given a clearance to copy and read back. From there we looked at the SID from KIAD and asked more questions. He also wanted to know the top altitude on the particular transition we'd be flying. I was the shown the ILS 35 into KAVL and asked to brief the approach. We then talked about weather inside and outside of the FAF and more questions. Know the symbols on the plates, aids and stars. We covered Vmc and multi engine aerodynamics along with systems on my most recently flown aircraft. (view the study guide of... Continue Reading this Interview Experience
Christian S

(Hired at CommutAir)

The insight to know what to expect for the interview, for the technical questions in particular, is a great help!

Dec 05, 2022

Andrew R

(Hired at CommutAir)

Got multiple job offers thanks to this website.